Numero 30 – Settembre 1997
Copertina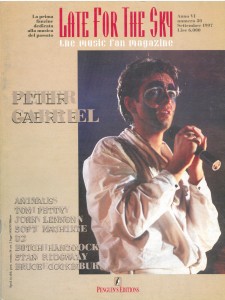 Sommario
             seconda di copertina: Editoriale
Pag. 2  -  Ritratti.  Peter Gabriel: Un uomo con una storia da raccontare di P.A.Cantù e M.Bizzozero 

Pag. 7  -  Ritratti.  Animals: The house of the rising Burdon di D.Ghisoni  

Pag. 8  -  Ritratti.  Tom Petty & The Heartbreakers: Seminole Bingo! di G.Callieri

Pag. 12  -  Ritratti.  John Lennon: Life is what happens to you while you're busy making other plans di R.Russino

Pag. 16  -  Ritratti.  Soft Machine: La macchina soffice, parte seconda di M.Paparelle

Pag. 18  -  Ritratti.  Enya: La musica innocente di E.Zanatta

Pag. 20  -  Ritratti.  U2: Catholic boys for catholic rockers di C.Baroni 

Pag. 22  -  Ritratti.  Cat Mother: Il sogno collettivo di G.Giazzi

Pag. 24  -  On Stage.  Dave Alvin: Ferrara, Renfe Club di R.Stancanelli

Pag. 26  -  On Stage.  Butch Hancock: Club de Musique, Arma di Taggia 29-4-97 di R.Stancanelli

Pag. 28  -  Testi Tradotti.  Stan Ridgway: Liriche da Mosquitos a cura di G.Callieri

Pag. 31  -  Vinily Vitaly.  Terry Brooks & Strange: To Earth With Love/High Flyes di D.Medves

Pag. 32  -  Classici.  Bob Dylan: The Times They Are A-Changin' di R.Cardini

Pag. 34  -  Classici.  Crosby, Stills & Nash: Crosby, Stills & Nash di F.Pezzoli

Pag. 38  -  On Stage.  Eels: Milano Magazzini Generali 22/04/97 di M.Grompi

Pag. 39  -  On Stage.  Bruce Cockburn: Live al Sonny Boy 27/03/97 di R.Stancanelli

Pag. 41  -  Teach Your Children.  Bees Make Honey: Music Every Night/Blasters: American Music/Paul Clayton: Whaling And Sailing From The Days Of Moby Dick/Bruce Cockburn: Joy Will Find A Way/Joe Ely: Live Shoots/Gram Parsons & The Fallen Angels: Live/Iris De Ment: My Time/Lowell George: Thanks I'll Eat Here/Mouse And The Traps: Public Execution/McDonald And Giles: McDonald And Giles/Neil Young: After The Gold Rush/New Riders Of The Purple Sage: The Adventures Of Panama Red/Penguin Cafe Orchestra: Broadcasting From Home/Pete Ham: 7 Park Avenue/Prefab Sprout: Steve Mc Queen/Taj Mahal: The Natch'l Blues/The Glee Club: The Glee Club/Jayhawks: Sound Of Lies/The Kingsmen: In Person/The Remains: The Remains/Humour: The Purity Of Essence/The Waterboys: This Is The Sea/The Youngbloods: Elephant Mountain/Will T.Massey: Will T.Massey.

Pag. 55  -  Modern Loner.  Bob Cheevers: Gettysburg To Graceland/Ana Egge: River Under The Road/Barbara Kessler: Notion/De Villez & Motivo: Tense Present/Daniel Market: Wonderland Avenue.

Pag. 59  -  Letture.  AA.VV.: Bruce Springsteen, The Rolling Stone files/Franco Bolelli: Jerry Garcia, Riflessioni e illuminazioni della chitarra magica dei Grateful Dead

Pag. 60  -  Fra vent'anni su Late For The Sky.  John Fogerty: Blue Moon Swamp/Eric Wood: Letters From The Earth/David Byrne: Feelings/Ben Harper: The Will To Live/John Prine: Live On Tour/Southside Johhny: Spittin Fire/James Taylor: Hourglass

Pag. 64  -  Spazio Fanze.