L'organo ufficiale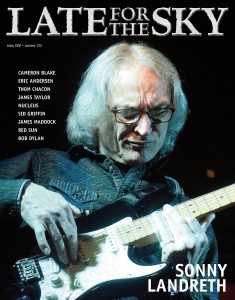 Numero 133 – Giugno 2018
2 ASSOCIAZIONE
AUTORI VARI
Tre vinili preziosi
Di Paolo Baiotti
4 FOCUS ON
ERIC ANDERSEN
Oltre il bene e il male
Di Francesco Byron Caltagirone
8 FOCUS ON
JAMES MADDOCK
A british songwriter in New York
Di Paolo Baiotti
10 FOCUS ON
LEE BRILLEAUX
The story of a rock'n'roll gentleman
Di Paolo Baiotti
14FOCUS ON
AUTORI VARI
Happy trails and holy grails
Di Dario Blek Medves
18 FOCUS ON
SONNY LANDRETH
Il delta del Delta
Di Aldo Pedron
22 I FOCUS ON
CHARLIE
Donne nei nostri cuori e nella nostra musica
Di Ronald Stancanelli
24 FOCUS ON
RED SUN
Greetings from Albone Park
Di Marco Tagliabue
26 NOT LATE FOR THE SKY
BRUCE COCKBURN, CAROLE KING, FAIRPORT CONVENTION, JIM CROCE, LITTLE FEAT, PAT METHENY
A cura di Fabrizio Pezzoli
28 FOLK INTO ROCK
TREES, STEELEYE SPAN, 5 HAND REEL
A cura di Raffaele Galli
30 OLD STONES & BROKEN BONES
AUTORI VARI
Noi siamo figli delle selle
Di Dario Blek Medves
34 OLD STONES & BROKEN BONES
Prendi la chitarra e vai
(sì, ma vai però…)
Di Dario Blek Medves
38 ON AIR
CAMERON BLAKE
Chi ha paura di Cameron Blake?
Di Mauro Eufrosini
41 FOCUS ON
FABRIZIO ZANOTTI
Non è un Rebus
Di Ronald Stancanelli
42 YESTERDAY… AND TODAY
JAMES TAYLOR
Di Fabrizio Pezzoli
44 ON STAGE
SID GRIFFIN
Live @ Cohen, Verona 7 aprile 2018
Di Paolo Crazy Carnevale
46 ON STAGE
BOB DYLAN
Just Like Mr. D
Di Donata Ricci
ORPHAN BRIGADE
16 novembre, Live at the Cellar
Di Paolo Crazy Carnevale
TOM CHACON
17 gennaio 2018, Fondazione Cassa di Risparmio, Bolzano
Di Paolo Crazy Carnevale
50 BORDER AFFAIRS
ROD MELANCON, DAVID ROBERT KING, SOFIA TALVIK, ROGER HOOVER
A cura di Claudio Cacchi
52 L'ALTRA ALBIONE
NUCLEUS
Ian Carr & the elastic rock of Nucleus
Di Marco Calloni
54 L'EMERSO SOMMERSO
THE MUGSHOTS, ROBERTA ALLOISIO e ARMANDO CORSI, ELOISA ATTI, JAIME MICHAELS
A cura di Ronald Stancanelli
56 WATCHING TV
DAVID GILMOUR, IQ, RICK WAKEMAN AND THE ENGLISH ROCK ENSEMBLE, DOWN 'N' OUTZ
A cura di Paolo Baiotti
60 OLDIES & GOLDIES
B.B.KING, BLACK MARKET KARMA, THE BLUETONES, DEAD RABBITS, JESSE COLIN YOUNG, LINO E I MISTOTERITAL, MICHAEL BLOOMFIELD, MIKE AULDRIGDE, NEW RIDERS OF THE PURPLE SAGE, PINK FLOYD, PHISH, POINT BLANC, THE STONEMAN FAMILY, SHOCKING BLUE, SONIC JESUS, THE ASTEROID 4, AMERICAN FOLK BLUES FESTIVAL, THE WIZARDS FROM KANSAS, NEIL YOUNG & THE RESTLESS, SMITH PERKINS SMITH, SON SEALS.
A cura di Paolo Crazy Carnevale, Ettore Quattrini, Gaslight Hackenbush, Luciano Salvati e Paolo Baiotti
72 LAST BUT NOT LEAST
The music (super) market
Di Roberto Anghinoni
Stai cercando informazioni sui numeri passati dell'Organo Ufficiale dell'Associazione?