Numero 125 – Aprile 2016
Copertina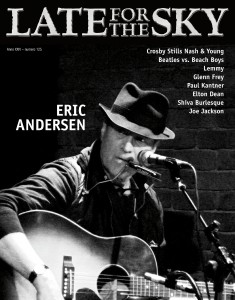 Sommario
Pag. 1  -  Sommario
Pag. 2  –  Associazione.  Cose Preziose.  Bruce, la radio, il 1978 e lo scrigno dei tesori, di P.C.Carnevale
Pag. 4  –  Focus On.  Mai più CSNY? (Mezzo secolo di dejà vu),  di M.Grompi
Pag. 6  -  Focus On.  Eric Andersen. Professione "songpoet. Un pomeriggio al Ca' de' Bezzi parlando di musica e letteratura/Eric Andersen e Michele Gazich. Live in Bolzano, Sudwerk - 28 gennaio 2016/Eric Andersen. Discografia selezionata, di P.C.Carnevale e R. Stancanelli
Pag. 12  -  Focus On.  Alabama Shakes. Il Colore del Suono, di P.C.Carnevale
Pag. 14  -  Epica. The Beatles vs. The Beach Boys. Paul McCartney vs. Brian Wilson. Beach Boys vs. Beatlesmania. England vs. California, di A.Pedron
Pag. 28  -  Old Stones & Broken Bones.  Gran Varietà (seconda parte). Diane Hildebrand/Brenda Patterson/Mustard Retreat/Stack Medeiros Band/Guy & Joe/Bill Dawg & The Extraordinaires/Billy Hill/Big Bill Lister/Jr. Cadillac/Demian/John Hall,  di D.B.Medves
Pag. 32  -  On Stage.  Blackberry Smoke & Scorpions. Rock And Roll Is Here To Stay, di P.Baiotti
Pag. 34  -  On Stage.  Joe Jackson. Be Our Number, di R.Stancanelli
Pag. 38  -  Spoon River In Rock.  Ian "Lemmy" Kilmister. Killed by Death/Dieci dischi per ricordare Lemmy, di P.Baiotti.
Pag. 42  -  Spoon River In Rock.  Glenn Frey. The Leader Of The Band, di M.Grompi/Glenn Frey. Il vero leader, di P.Baiotti
Pag. 44  -  Spoon River In Rock.  Paul Kantner. Good Bye Baron Von Tollboth, di P.C.Carnevale
Pag. 45  -  I Write Your Name.  Freddy Bannister. There Must Be A Better Way, di P.C.Carnevale
Pag. 46  -  Border Affair, a cura di C.Cacchi.  Ian Fisher/Richmond Fontaine/Robert Lee/John Bryant/The Mallett Brothers Band/Last Days Of April.
Pag. 48  -  Modern Loner, a cura di M.Eufrosini. Penny Nichols. Orange County, Vietnam, Buddismo e dintorni.
Pag. 52  -  Folk.  Aly Bain & Phil Cunningham. Una Scozia da sogno, di F.Caltagirone
Pag. 56  -  On Air.  Libero Robba. Vita da Roadie: quando la musica è fatica e passione, di P.Baiotti
Pag. 60  -  L'altra Albione, a cura di M.Calloni. Elton Dean. Strange Comforts.
Pag. 62  -  Gli Indiementicabili, a cura di M.Tagliabue.  Shiva Burlesque.
Pag. 64  -  Oldies & Goldies.  Duster Bennett/Canned Heat with Johnny Lee Hooker/Jim Capaldi/Uriah Heep/Delaney & Bonnie/Dr. Feelgood/The Electric Flag/Elvis Presley/Goose Creek Symphony/Paul Millns Band/The Sidewinders/The Siegel-Schwall band/Stephen Stills/Townes Van Zandt.
Pag. 72  -  Last But Not Least, di R.Anghinoni.  Sul treno con Woody.