Numero 3 – Marzo 1993
Copertina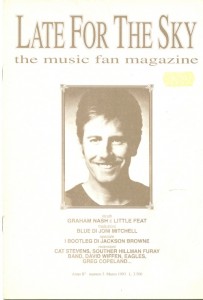 Sommario
seconda di copertina – Editoriale
Pag. 1 – Ritratti. Graham Nash: La ballata di un uomo semplice di M. Macina
Pag. 3 – Ritratti. Little Feat: Quanto ci manchi, Lowell di D. Possenti
Pag. 5 – Bootleg. Illegal Browne di R. Cardini
Pag. 9 – Bootleg. C.S.N. & Y.: Long Time Gone di D. Ghisoni
Pag. 10 – Bootleg. J. Mitchell & J. Taylor: Live At The Royal Albert Hall di R. Anghinoni
Pag. 11 – Testi tradotti. Jony Mitchell: Blue di M. Macina
Pag. 15 – Rimembranze. For What It's Worth: Riflessioni inutili sugli anni '60 di G.L. Ferri
Pag. 17 – Folk. Stockton's Wing: Light In The Western Sky di R. Anghinoni
Pag. 18 – Folk. Aly Bain: Aly Bain di R. Anghinoni
Pag. 19 – Pop Goldies. British Rock, la mia storia (prima puntata) di C. Baroni
Pag. 21 – Teach Your Children.
Cat Stevens: Teaser And Firecat (D.P.);
The Souther Hillman Furay Band: Troble In Paradise (D.P.);
Old & In The Way: Old & In The Way (R.C.);
John Winston Lennon: Plastic Ono Band (R.A.);
David Wiffen: David Wiffen (D.G.);
Eagles: Desperado (P.M.);
Greg Copeland: Revenge Will Come (R.C.).