Numero 31 – Novembre 1997
Copertina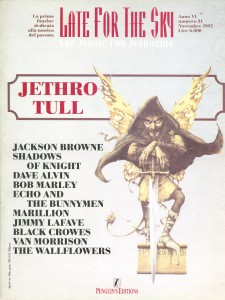 Sommario
        seconda di copertina: Editoriale
Pag. 2  -  Speciale.  Jethro Tull: Living in the present di L.Crovi

Pag. 5  -  Intervista.  Jackson Browne: "Hoy amigo, tal igual como ayer…" di M.Grompi 

Pag. 9  -  Ritratti.  Shadows Of Knight: I cavalieri dalle lunghe ombre blues di D.Ghisoni

Pag. 10  -  Ritratti.  Dave Alvin: La fuga di Romeo di G.Callieri

Pag. 14  -  Ritratti.  Echo And The Bunnymen: Teneri coniglietti spaventati di C.Baroni

Pag. 16  -  Ritratti.  Marillion: Il prezzo dell'infamia, l'orlo della follia di E.Zanatta e M.Lenti

Pag. 22  -  Testi Tradotti.  Jimmy Lafave: Liriche da Highway Trance a cura di M.Macina

Pag. 26  -  Folk.  The legacy of the Irish soul (2 pt.) di R.Anghinoni

Pag. 30  -  Intervista.  Black Crowes: Il feeling ritrovato di V.Pio

Pag. 32  -  Modern Loner, a cura di M.Eufrosini: The Steaks: Bare/Nate Ouderkirk: Perfect Wave/5 Chinese Brothers: Let's Kill Saturday Night/Ruth Gerson: Fools And Kings/AA.VV.: One Night In Cambridge 

Pag. 34  -  On Stage.  Van Morrison: Arena di Verona, 21 giugno 1997 di M.Eufrosini/Penny Lang: Live at the House of the Rising Folk-Pesina di C.Cacchi 

Pag. 36  -  On Stage.  The Wallflowers: Sons And Lovers, Live in Nonantola-Vox Club, 17/5/97 di G.Callieri 

Pag. 38  -  On Stage. Artisti vari: Folkest '97-Two weeks last summer di A.Carminati e D.Medves  

Pag. 41  -  Vinily Vitaly.  The Colorblind James Experience: Why Should I Stand Up?/The Colorblind James & The Dead Valley Boys: Strange Sound Of The Basement di D.Medves

Pag. 44  -  Teach Your Children.  Eric Andersen: Bout Changes & Things/AA.VV.: Different Strokes/Bert Paquette & The New Gamblers: Same/Carole King: Music/Count Five: Psychotic Reaction/Gary U.S. Bond: On The Line/Gene Vincent: Baby Blue/Greg Khin Band: With The Naked Eye/Hourglass: Hourglass-Power Of Love/Jewel: Pieces Of You/Jo Ann Kelly: With John Fahey & Co./The Mekons: Honky Tonkin'/Monks: Black Monk Time/Paul Kantner-Jefferson Starship: Blown Against The Empire/Pierre Bensusan: Près De Paris/Rickie Lee Jones: Pirates/Sammy Walker: Live A Gradisca d'Isonzo/Shawn Colvin: Cover Girl/Tav Falco's Panther Burns: The World We Knew/Tom Pacheco: Woodstock Winter/Tom Russell Band: The Road To Bayamon/Utah Phillips: Good Tonight/Jackson Browne: The Pretender/Cowboy Junkies: The Trinity Session.   

Pag. 58  -  Classici.  Jonathan Richman: Surrender To Jonathan di G.Callieri 

Pag. 60  -  Fra vent'anni su Late For The Sky.  Amazing Rhythm Aces: Out Of The Blue/Louise Taylor: Ride/P.W. Long's Reelfoot: We Didn't See You On Sunday/Robert Wyatt: Shleep/Robin Trower: Someday Blues/Tindersticks: Curtains/Mark Eitzel: West

Pag. 64  -  Spazio Fanze.