Numero 128 – Febbraio 2017
Copertina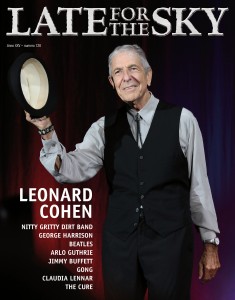 Numero 128 - Febbraio 2017
Pag. 1  -  Sommario
Pag. 2  -  Focus On.  Leonard Cohen.  Addio all'immenso, stanco poeta, di R.Stancanelli
Pag. 8  -  Focus On.  George Harrison. La villa di Friar Park, di R.Russino e D. Tarlindano.
Pag. 14  –  Focus On.  The Beatles.  Eight Days a Week-The Touring Years, di C.Paolini
Pag. 16  -  Speciale.  Nitty Gritty Dirt Band. All The Good Times, a cura di P.C.Carnevale con R.Stancanelli, R. Galli e…John McEuen -  Intervista esclusiva a John McEuen, di P.C.Carnevale – La genesi di Will The Circle Be Unbroken raccontata da McEuen
Pag. 34  -  Focus On.  Bob Dylan. Appunti  su Robert "Nobel" Zimmerman, di L. Salvati
Pag. 38  -  On Air.  Claudia Lennar. Il ritorno di Mrs. Brown Sugar, di M.Eufrosini
Pag. 42  -  On Stage.  Jimmy Buffett And The Coral Reefer Band.  I Dont' Know Tour: La Cigale – Parigi, Francia Sabato 24 settembre 2016, di A. Pedron
Pag. 45  – On Stage.  The Cure. Mediolanum Forum Assago 1 novembre 2016,  di G. Vialetto
Pag. 46  -  L'Altra Albione, a cura di M.Calloni.  Gong. "Adieu! Planet Gong". Pierre Moerlen's Gong and Beyond…
Pag. 48  -  Focus On.  Arlo Guthrie. Figlio del vento, di F. Caltagirone
Pag. 54  -  Old Stones & Broken Bones, a cura di Blek.  Dobro Jutro.
Pag. 58  -  Watching Tv, a cura di P.Baiotti.  Van Morrison. The Rolling Stones. Rush. Us Rails.  Dear Jerry: Celebrating the music of Jerry Garcia.
Pag. 59  -  Oldies & Goldies.
Pag. 72  -  Last But Not Least.  Il Re ha perso la voce, di R.Anghinoni